Let's Talk Not Hide is a campaign run by Afghan Women's Organization Refugee and Immigrant Services.
The AWO provides settlement services to all newcomers, with a special focus on women, their families, refugees, and people who have experienced war and persecution. To meet the ever-changing needs of them, AWO offers a range of activities from finding a home, work, learning English, and finding out about Canada's legal system and health care all crucial to ensuring that each newcomer has a foundation for building a healthy life in Canada.
In this project, Let's Talk Not Hide, a team of trained peer champions works hard to raise awareness about the role Neighbors, Friends & Families can play as Bystanders in the newcomer communities of Muslim faith to promote healthy relationship and reduce domestic violence.
Our trained peer leaders organize and facilitate In-person & online workshops, seminars, sessions as well as lively conversation circles in their own respected communities around the town. Different Methods of community outreach is being used to reach to as many members of the community as possible and spread awareness and end domestic violence. our programming has resulted in more women and their families having access to and interactions with their network of peers and increased involvement in their communities.
If you are interested to learn more about our programs or would like to become a Partner, volunteer, or peer champion, contact:
info@letstalknothide.ca
Phone: 416.588.3585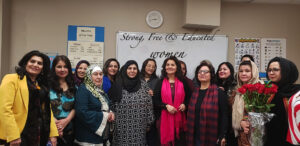 This project is funded by the Ontario Ministry of Children Community and Social Services.